Risk Acceptability Framework used by ACART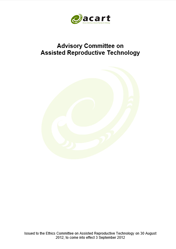 An established procedure is an assisted reproductive technology procedure that does not require ECART approval.
The risk acceptability framework is used by ACART to determine whether the risks associated with a procedure are acceptable for the purposes of recommending it be declared an 'established' procedure.
It sets out the processes and considerations ACART takes into account.
Download