Guidelines on Preimplantation Genetic Diagnosis with Human Leucocyte Antigen Tissue Typing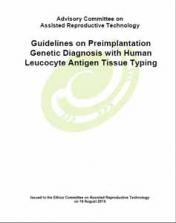 These guidelines replace the previous guidelines issued in 2005 and expand on Preimplantation Genetic Diagnosis (PGD) with Human Leucocyte Antigen (HLA) tissue typing to allow its use to find a tissue match for a sick child with a non-genetic disease. PGD with HLA tissue typing may only be used where the child to be treated will be a brother or sister of the resulting child.
Applications for PGD with Human Leucocyte Antigen tissue typing must be submitted to ECART for ethical approval on a case-by-case basis. There are other applications of PGD that are established procedures under the Human Assisted Reproductive Technology Order 2005, and therefore do not require ethical review by ECART.
The guidelines came into effect 18 August 2014.
Download