Advice on applications that fall under more than one of the guidelines issued by the Advisory Committee on Assisted Reproductive Technology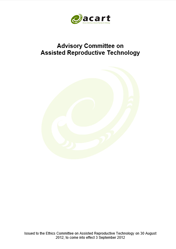 An assisted reproductive procedure is a procedure that requires case by case ethical approval by ECART before the procedure can proceed.
This advice, originally called Advice on applications that include combined assisted reproductive procedures has been provided to ECART to allow it to consider an application to use more than one assisted reproductive procedure (for example donation of egg from a family member with surrogacy).
The advice has been amended and renamed, coming into effect on 16 December 2013. The amendments reflect two changes since the advice was originally issued in 2008: Guidelines on Extending the Storage Period of Gametes and Embryos were issued in 2012 and the recently amended Guidelines on Surrogacy involving Assisted Reproductive Procedures.
Download