Guidelines on Extending the Storage Period of Gametes and Embryos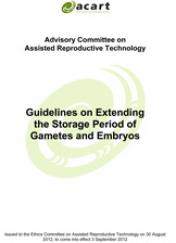 These guidelines cover the matters ECART must take into account when considering applications to extend the storage period of eggs, sperm and embryos beyond the 10 year limitation period, or beyond an approved extended storage period.
Currently the Human Assisted Reproductive Technology Act 2004 (HART Act) prohibits the storage of eggs, sperm and embryos beyond 10 years or approved storage period. The 10 year period begins from November 2004, or later, depending on when the gametes or embryos were first stored. The guidelines were therefore issued to ECART so ECART could consider individual applications for extending the storage period.
The guidelines came into effect 3 September 2012.
Download